With the wide application of pre-made pouch in daily life, there are more and more automatic packaging equipment too.
The TOP 2 most popular Pre-made Pouch packaging machine in the market : Rotary Type and Horizontal Type Pre-made Pouch Packing Machine. Sometimes consumers are confused because of too many choices.
How to choose a perfect pre-made bag packaging machine for specific project?
Let's introduce the main feature and differences between above two types of machines, so you could make smarter decision base on your case.
1.The Main Structure is Different
Rotary Type Premade Pouch Packing Machine is with round turntable structure.And working process is that the pouch will rotate to different workstations with the turntable to complete all process.
The main models include around 8 workstations. The more workstations you choose, then more flexible and more functions you could add. It runs as below picture: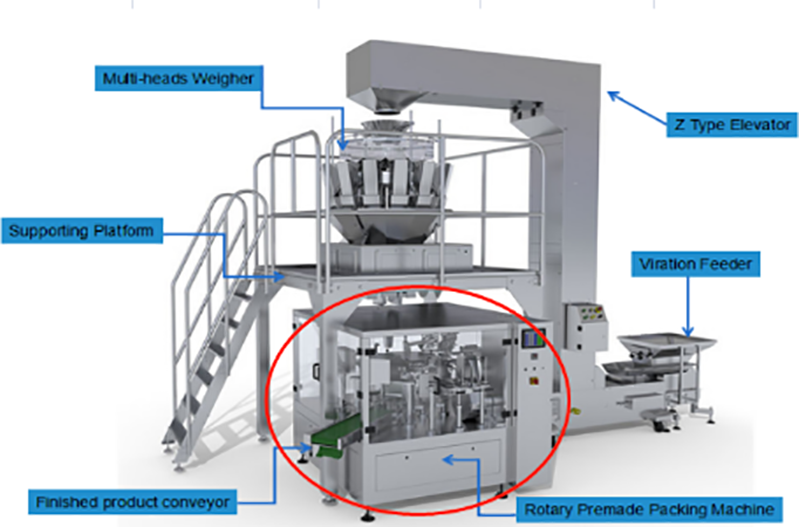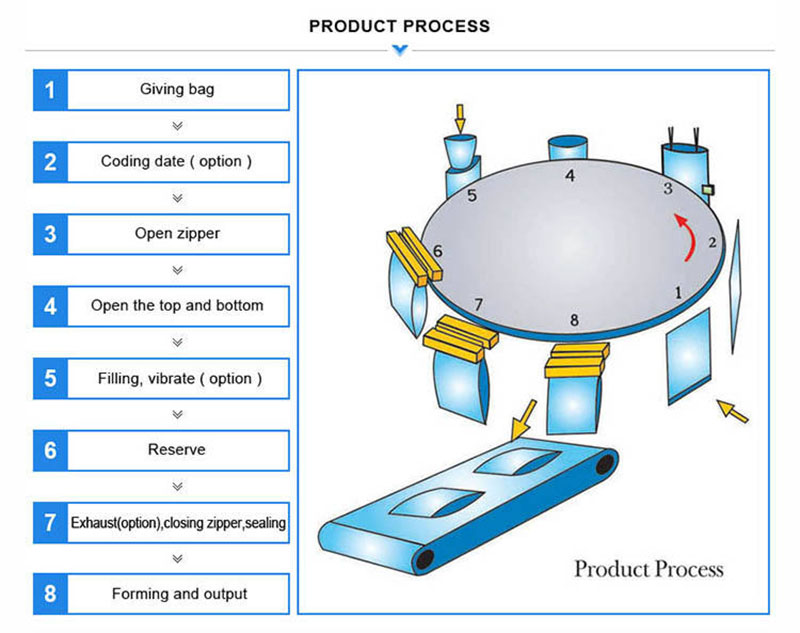 The Horizontal Premade Pouch Packing Machine adopts horizontal direction structure. So the overall working flow is that: The pouch move in horizontal direction; workflow is similar to that of the Rotary Packaging Machine, shown as below picture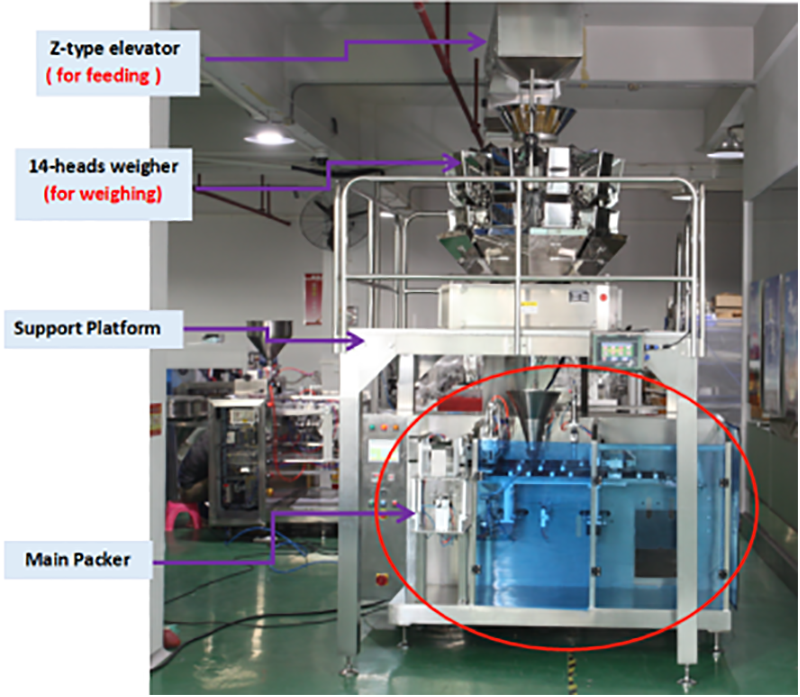 2.Speed No Big Difference
The packing speed mainly effected by the the filling speed. That means, total speed for the 2 system could be similar as long as your dosing system is same.
However, if the Horizontal type adopts double filling heads, then its speed can be slightly higher Also cost for the double filling heads is higher. Meanwhile two sets of dosing equipment is needed.
Generally speaking, If your workshop has enough space, it is better to buy two sets of packaging equipment. Single filling head system will be more stable and easy to operate in long-run.
3.Stability: Horizontal Type Better
Since the centrifugal force will generated when Rotary type machine works, it has to slow down to maintain smooth operation, specially when packing heavier products.
And horizontal type machine do not has this problem. In that case, with same speed, Horizontal type pre-made bag packing machine is actually more stable than Rotary type.
4.Filling Volume: Rotary Type with Lager Volume Range
Rotary Type Premade Bag packing Machine can have a large filling volume and a larger bandwidth.
The horizontal Type has width limit. So it makes the Horizontal type's filling volume a bit smaller than Rotary type.
For accuracy, the two type are the same, because the dosing system actually determines the accuracy.
5.Repair & Maintenance: Horizontal Type Easier
Horizontal Type Pre-made Packing machine is Easier for maintenance : The control system of Horizontal type are located behind the main machine, you can open the door for troubleshoot errors more conveniently and easier.
Rotary Type are More Complicated: Rotary type control system and the turntable is located below, when repairing ,you'll has to lie down to check the internal structure underneath. If one working position has problem during operation, The whole system need to change. It require Higher repairing cost.
There is no one machine is 100% better than other. You should also consider your product feature and bag capacity, daily production need. Then refer to above difference to ensure you could make smarter decision.