Shampoos are used to wash hair and have a wide range of applications, also is one of the most commonly used hair cosmetics. It is used to clean the oil, sweat, sloughed cells on the scalp, and foreign dust, microorganisms, residues, and bad odors of styling products that adhere to the scalp and hair, will keep your scalp and hair clean and beautiful. Shampoos come in a variety of formulations, and commercial shampoos are mainly liquid shampoos. Surfactants, foam stabilizers, thickeners, preservatives, and flavors are the basic ingredients, so it is a relatively viscous liquid.

Foshan Landpack Packaging Machinery, a manufacturer specializing in all kinds of packaging machines for more than 16 years. Here we have rich experienced engineers and distributors. No matter what product you want to pack, we can always give you a satisfactory solution. Our machine can basically be operated by 1-2 people, which can greatly reduce labor costs and improve packaging efficiency. The following machine is suitable for packaging small shampoo packets products: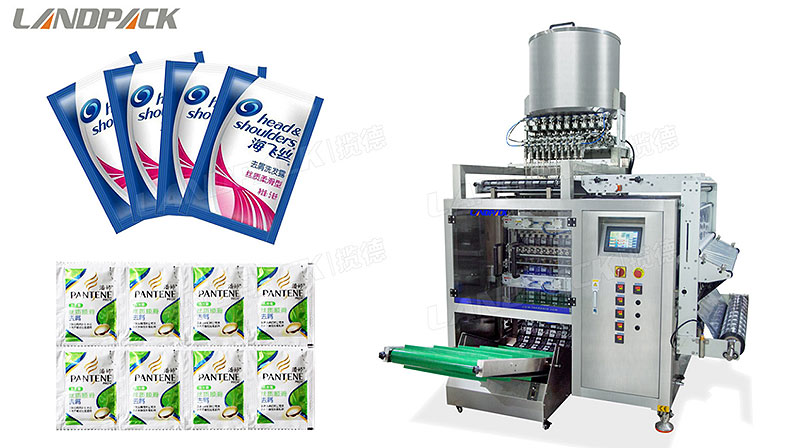 This is the 10-lane packing machine we have ever made. It can pack 10 lines at the same time and cut 20-40 knives per minute, one cut can pack 10 bags. That means it can pack 200-400 bags within one minute. The accuracy is about 0.1-0.3g. If you need to pack is small sachet product, a multi-line packing machine is a good choice.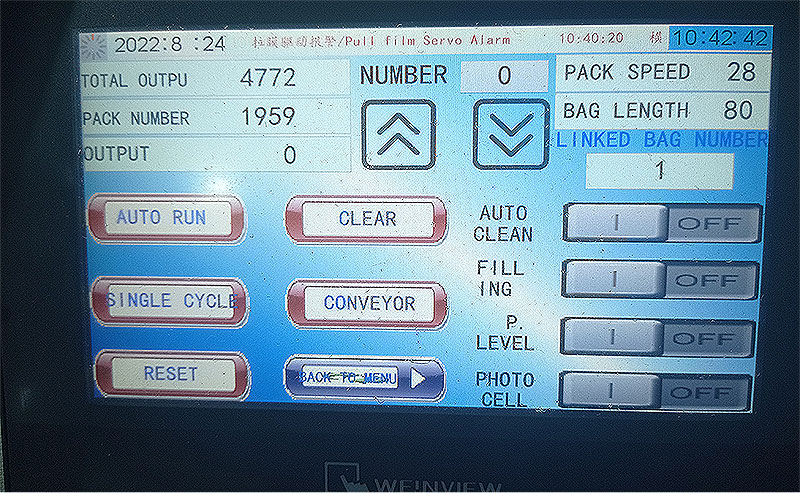 The above picture is the touch screen display during the operation of the machine. On the screen, we can set the length of the bag, and see the speed of the packaging at the same time. During the process of product packaging, the machine will automatically record, we can see the total output quantity in the upper left corner. Most of the needs can be met by adjusting the touch screen, and the operation is very simple and easy to understand.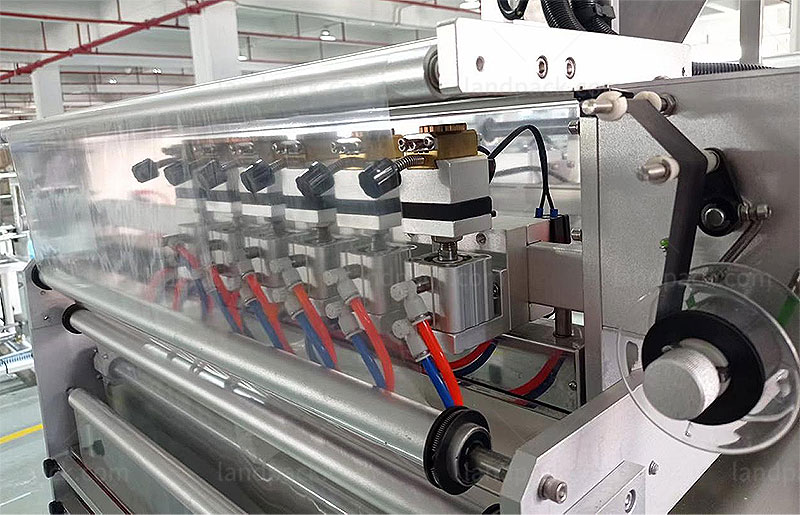 We can clearly see that each line has one date printer, our multi-line packing machine uses a ribbon date printer, which uses ribbon for printing, and the ribbon needs to be replaced regularly. We use a servo motor to control the machine, each line has one servo motor, plus the film pulling is also controlled by the servo, which can greatly speed up the packaging speed.
Choose Landpack Company, we will guarantee your quality, and our professional after-sales team will follow up on the subsequent use of the machine. If you want to know more details about our company, please leave a message on our website, and our professional sales engineer will contact you soon to give you the best solution at the fastest speed.
LANDPACK will be your best partner to provide you a reasonable packing solution.