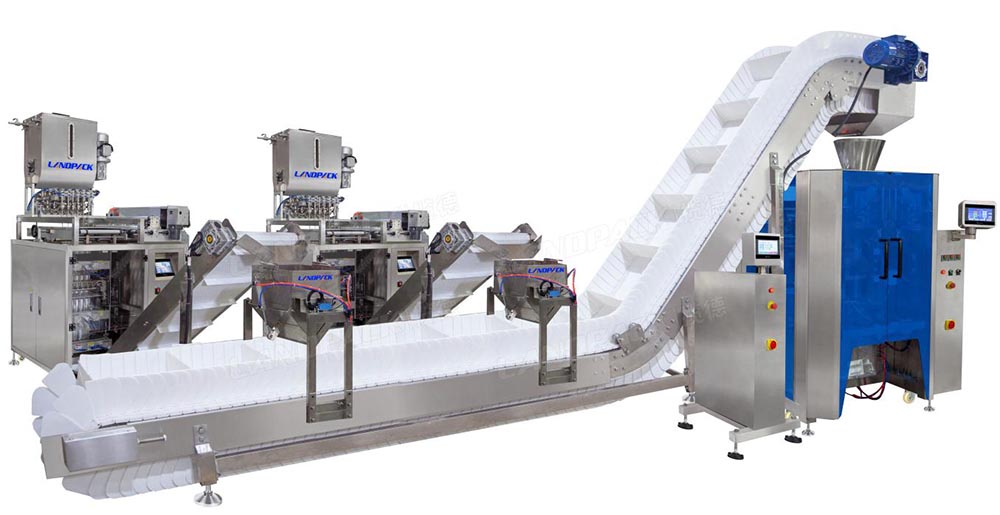 Here is a customized packing solution of packing small sauce sachets into large bag for our Malaysian customer
Product: Sauce

Sealing: 4 sides sealing
Packing speed:30*6 lane *2 machines
Quantity in large bag: 48pcs/bag. 96pcs/bag.144pcs/bag.
Packing demands:From multi lane packing machine to big vertical roll film packing machine fully automatically.
Sauce multi lane packing machine

Double layer material tank come with stirring and heating device to ensure the sauce have better fluidity. You may fill water into the middle layer to heat up the inner of material tank. Transparent level can check the material level directly. The material tank leave a inlet hole 38mm to connect the feeding material tube from production line directly. Level several can control the material feeding automatically.

Anti leaking nozzle to avoid sauce drops on the sealing section so that poor sealing. Also it will be very easy to clean the filling nozzle.
Imported accessories to ensure the machine pulling film.sealing cutting smoothly with good effect

Sauce sachets come out orderly. And there will be a detecting sensor fixed on the outlet of conveyor.


Collecting hopper to collect the sachets after counting. You may set the counting quantity by touch screen. No matter you wanna discharge 48pcs/96pcs/144pcs.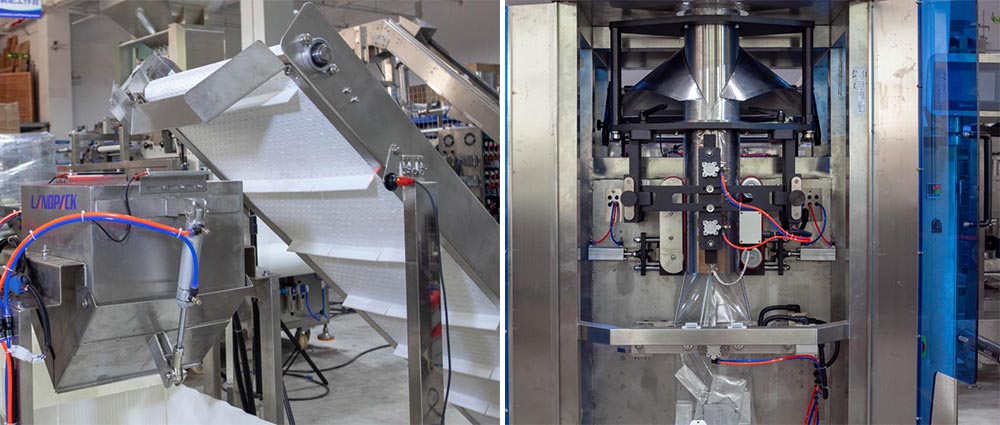 The sachets will be discharge to the vertical packing machine. The roll film width depends on the quantity of sachets you wanna pack.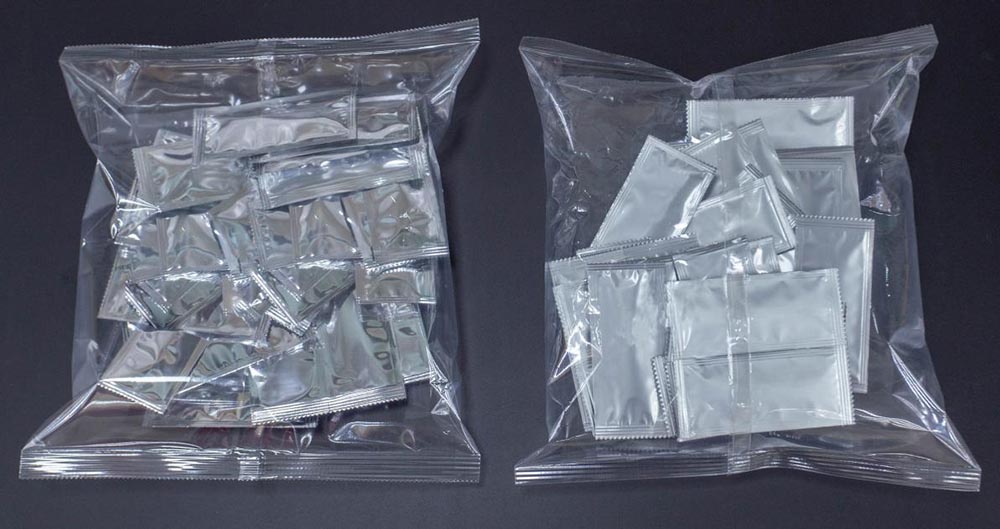 The product uses the counting point conveying system to cooperate with the servo system +plc controller on the three devices with high precision and stability. The product measurement is controlled by the servo motor to ensure the filling accuracy of the liquid paste, and the accumulative delivery of the product is controlled by the servo motor to ensure the product quality. Production controllability and flexibility. The product is suitable for the packaging of liquid paste products such as mouthwash, jelly, health drinks and other products.
The entire assembly line only needs one operator to switch on and off, which greatly improves the customer's output and reduces the customer's production management and maintenance costs.
From an environmental point of view. The fully automated production line has no human contact during the entire production process. It will make the packaging more hygienic and environmentally friendly.
In terms of investment cost, only one person is needed in the whole process, which greatly reduces the cost of labor. A high-quality machine is a large investment in the early stage, but the performance of the machine and the effect of the packaging will make your investment profitable.

Pls do not hesitate to contact me for any customized packing solution.
LANDPACK always be your best partner of packing solution!