Recently,more and more customers asked us about the packing solution for frozen products.
What's the most suitable packing solution for frozen products? Such as Frozen French Fries, Frozen Shrimp Balls, Frozen Fruit....
What should we pay attention to in the packaging solution of frozen products?
1.What the most important is the weighing system
Normally we will recommend the multi heads weigher with dimpled plate as the weighing system.During vibration measurement, As the dimpled plate scale is a concave and convex version, it can reduce the contact area between the material and the multi heads weigher, so naturally it can be easier to unload the material through vibration, and it will not stick to the board to avoid inaccurate measurement. Dryer system function on the multi heads weigher would be strongly recommended for using in cool room(under 15degree) to protect PLC. Normally the packing machine would be used in the cool room for frozen products. It would be the right way to ensure the weighing precision and protect the PLC well.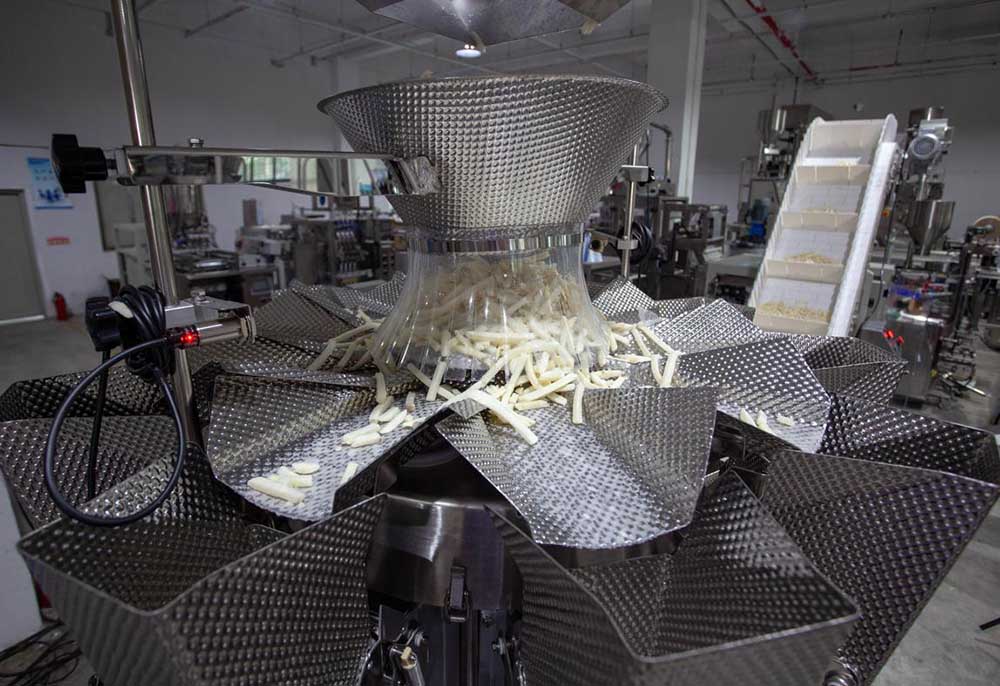 2.What's the right solution of material elevator?
We have 4 types of material elevators would be the option for feeding products.
A. Z type elevator.
It has compact design take small footprint area to feed dry and small granule.But it could not be wash by water directly. But have to take off the ABS bucket one by one and clean them and assemble them again. It would not be convenient for user if you are going to pack frozen fruits.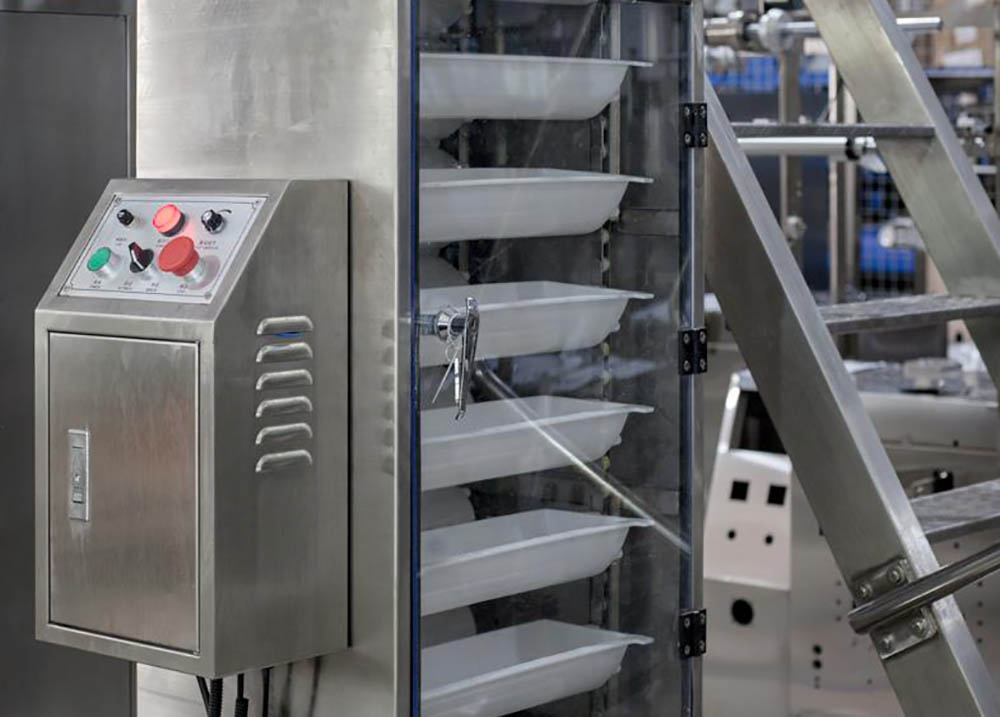 B. Modular PP material inclined elevator
This modular PP material inclined conveyor can be washed with water,but there are many holes and gaps on the back,which is not easy to clean,but its no problem for big piece products like as frozen fruits,and dumplings,most economic one.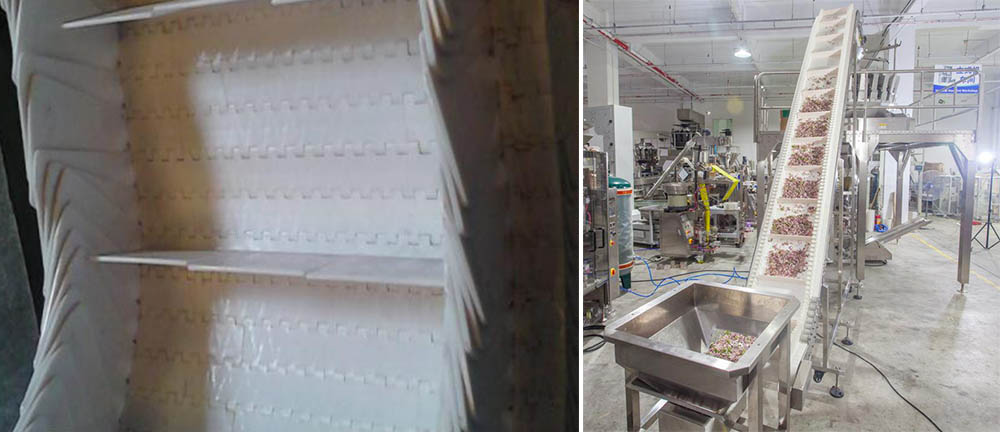 C. PU belt
The front side is a food-grade PU belt,the back side is gauze,flat,roller-driven,its easy to slip by washing with water,and if its not dried after washing,the canvas on the back is easy to mold and breed bacteria.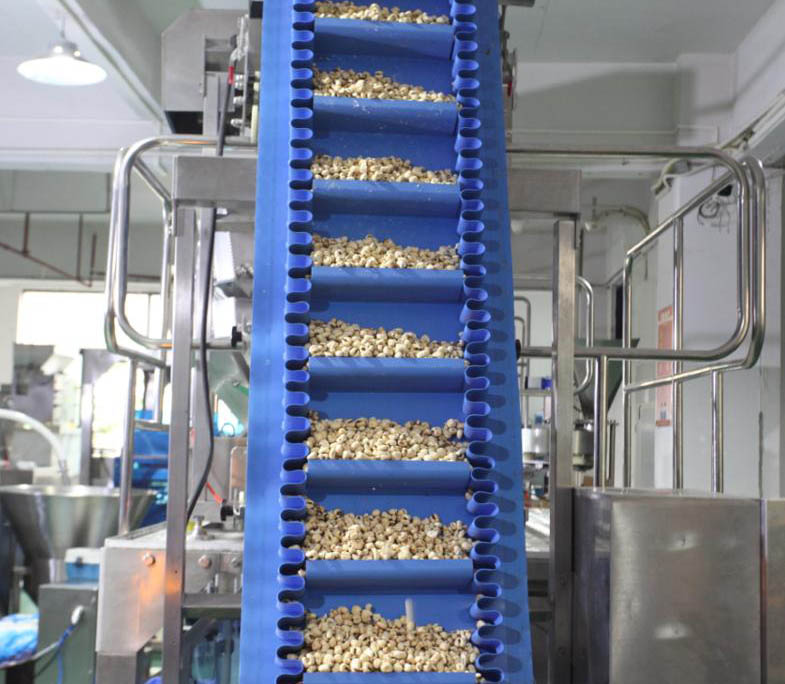 D. PU easy clean belt
The best quality belt,both front and back are food grade PU belt,and it is driven by sprocket.it will not slip when washing,easy to clean and easy to breed bacteria,This is the most recommended. But its also the most expensive and best one.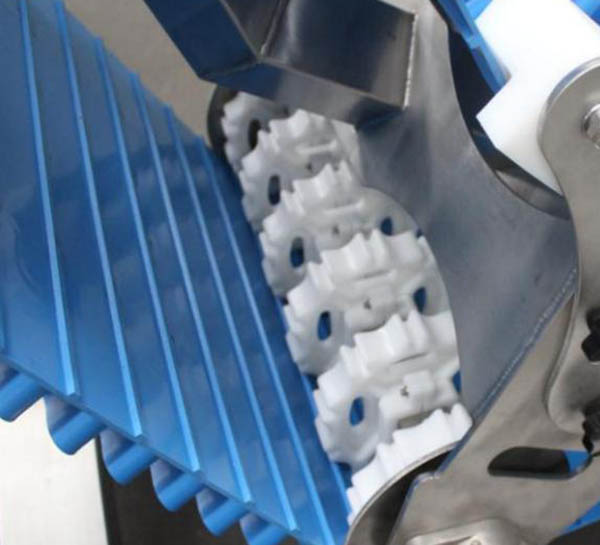 So normally we will recommend the Modular PP material inclined elevator as the material elevator for frozen fruits. Which come with affordable price. The most important key is it can be wash by low pressure water directly. Easy to have a good job of cleaning every shift. Effectively provide packaging efficiency.
3. What's the right packing material for frozen fruits?
In view of the characteristics of frozen products, we would recommend PET/PE, nylon/PE, which is tough enough for packaging frozen products and heavy weight products.The thickness depends on the packaging capacity. At least 80microns would be recommended.
Welcome to contact us for the details to provide you the most suitable packing solution.
LANDPACK always be your best partner !