Why Choose intermittent Multi-Lane Sachet Packaging Machines For Liquid Applications?

Multi-Lane Liquid Sachet Filling Machine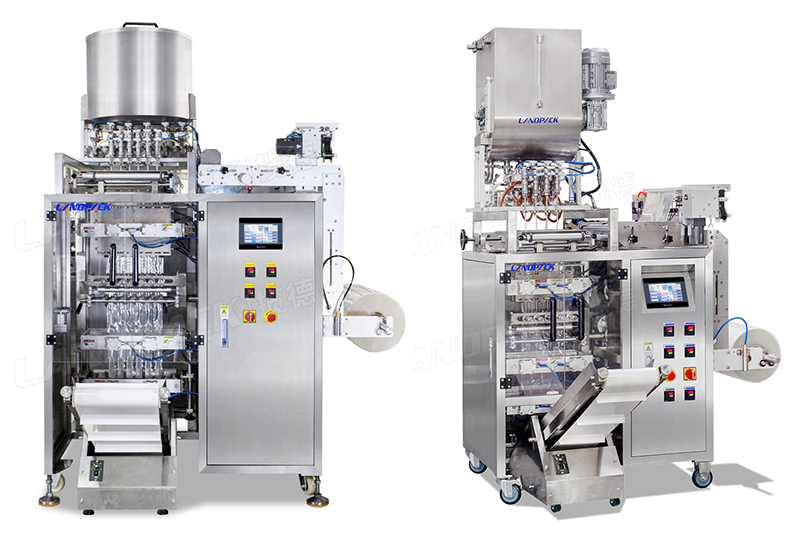 A general understanding of intermittent sachet packaging machine in packaging machine industry is slower production capacity, low engineering, and less basic applications. That was true before because the main disadvantage was hard to stop and start very fast and accurate. But everything has changed with today's technology.

And Landpack's latest configuration of sachet filling machines has huge advantages on liquid sachet applications.
1.1) More advanced controlling system
By upgrading the controlling motions to servo motors and high-speed PLC with automatic synchronization. All problems in the past solved. It's getting easier and faster. Besides the complicated mechanics' solutions become very simple and faster.
1.2) Easier Synchronization
All the motions has programmed as factory settings, so running the machine at any capacity does not change the synchronization, so no need additional adjustment at all.
1.3) Lower downtime periods and easier maintenance
Another benefit of motion controlling technology brings maintenance and downtime periods lower. Because our intermittent liquid sachet machine doesn't have mechanics inside. All the motions drives by servo motors with linear guides.That is to say, an average technicians instead of an expert technician could adjust basic things base on their specific needs like sealing time, filling delays, the pressure of sealers, etc.
1.4) Perfect Packaging Effect with Higher Speed
Adjustable speed of different motions on the machine is the main key to achieve higher capacities. The speed of liquid filling into sachets is the most important step to avoid any leakage and faults. So it can't be very fast as other motions. Keeping the speed of this step and adjusting other steps' speed.
For example, pulling film speed, sealing speed can be much faster than filling speed. So gaining time on some these steps and give enough times for filling step to ensure sachet comes out with perfect effect without any leakage and faults. That's not possible to happen on continuous motion sachet packet packing machine.
1.5) Low Spare Parts Consumption
All the above benefits of our liquid sachet filling machine bring less spare parts consumption. As there is no heavy mechanical, the machine never needs expensive, heavy spare parts at all. Basic consumption spare parts with fast delivery from in-stock, low price, and long time usage are the only needed spare parts.
That's why Landpack offers intermittent motion for liquid filling applications!!