Published by: Alice-Landpack
Date: 2023-05-02
Our customer from Uruguay has purchased from us 5 sets of VFFS packing machines in the last 3 years. 3 Sets for Cocoa Powder and 2 sets for granular snack project. Let's see how we start our first cooperation.
In the very beginning, they just want to get a semi-automatic packing machine to start their business.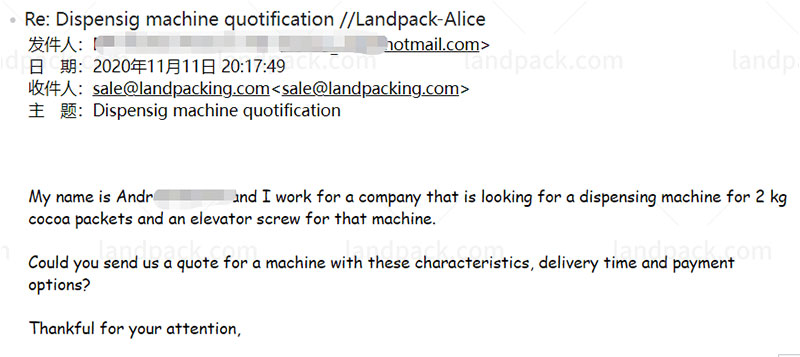 After discussion and checking on our automatic solution offer. They decide to change their plan and go directly to the automatic packaging system.
Below is the packaging system LD-620D and the layout for the system.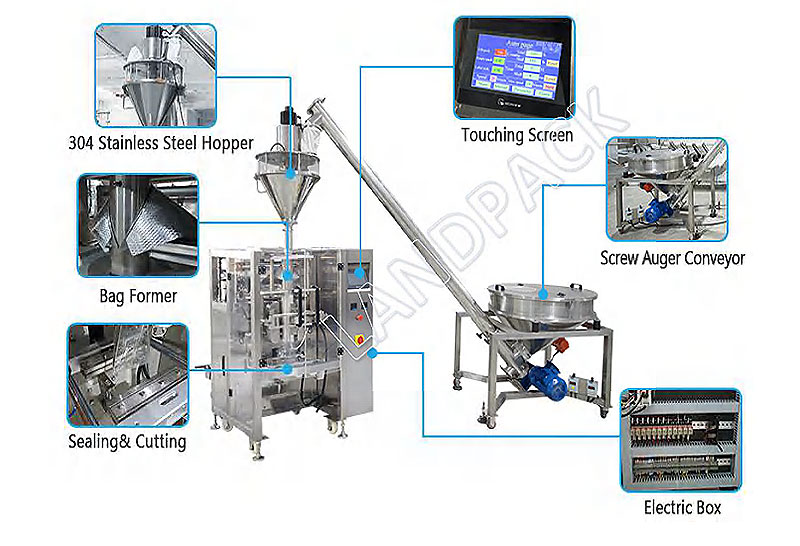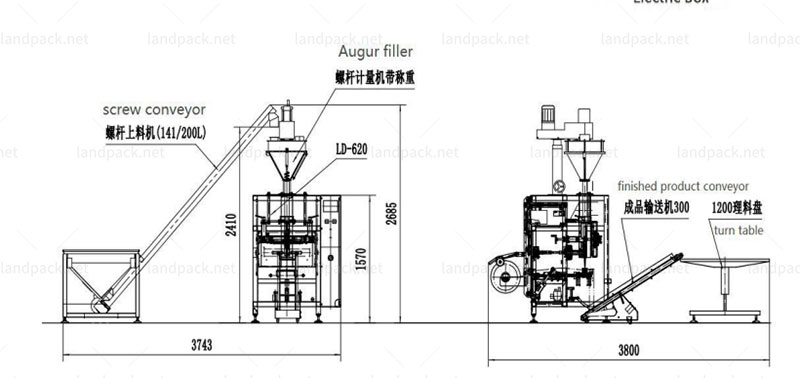 1. Product Name: Cocoa Powder
2. Bag style: Pillow bag (one kind of general film roll-making bag)
3. Bag capacity and Size: Up to 2.5kg per bag, which a wrapping film width of around 620mm.
4. Speed Request: 20-30 bags per min.
To meet all the above requirement, our system LD-620D perfectly meet this customer's need. The overall system includes:
1. Screw Feeding conveyor: to automatic feeding the cocoa powder.
2. 50L Auger Filler, auto weighing the powder, with high accuracy of ±1%.
3. LD-620 Main Packing Machine, which can make max bag size 30cm width x 45cm length, totally no problem packing cocoa powder with 2.5kg per bag.
After about 2 months of discussing, answering questions, and talking to end customers. The project finally closed successfully.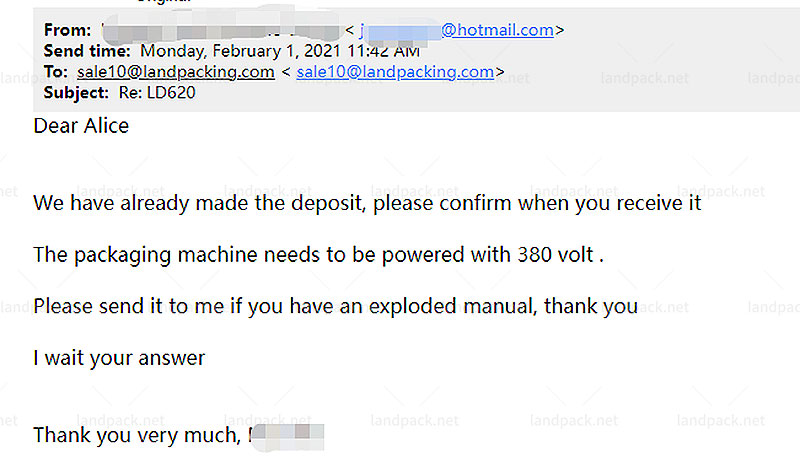 After around 30-45 working days, the machine has been finished assembling and testing.
Here is a testing video and a machine explanation video to show the customer how the machine works:
The machine Finished Loading and we will send the customer picture timely to confirm.
The machine is running well after online support. We generally set up a group to include our after-sale engineer to solve the installation.

The machine is working well in the customers' workshop now, after that they purchase extra 4 sets of packaging systems.
If you also have a similar project and want to upgrade to an auto-packaging solution. Please don't hesitate to contact us to get custom-made solutions accordingly.
Thank you for reading, please contact us if you have any inquiries.
LANDPACK would be your reliable supplier of packing machines.

If you have any questions about the machine, feel free to contact us or leave your machine inquiry on our website, our sales managers and engineers will be here to support you and provide you with a suitable packing solution.
You could contact us by our website address or phone number, our sales managers will contact you in time and give you professional suggestions. And our engineers are willing to help you to solve the machine problem and teach you one step by step on video calling.