Published by: Karen-Landpack
Date: 2023-09-06
Colombia customer
Requirement:
Hardware packing machine
Hardware item: screws and plastic buckle
Bags material: PE film
Bags shape: Three-side sealing
Two different kinds of packages, one needs to mix the screws and plastic buckle into one bag, and one is only packing the screws into one bag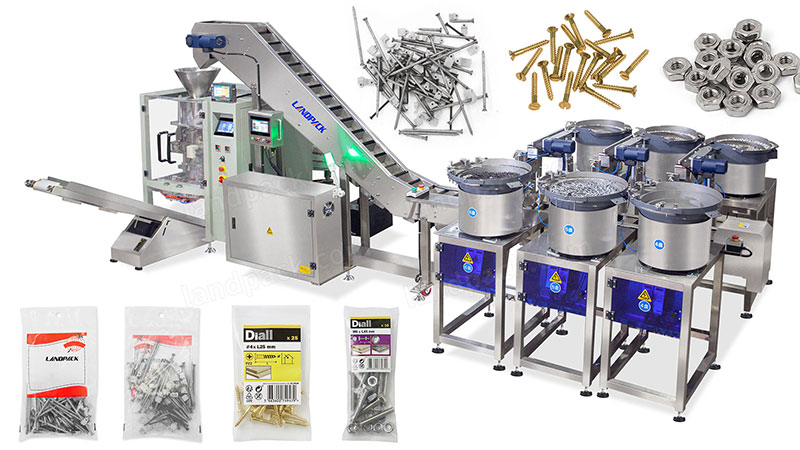 Our machine suggestion:
Counting bowl in 6 sets to speed up production. LD-420 main packer
The customer's bag shape is in 3-side sealing, and in PE film, so the sealing part will change a direction, and add the PE film horizontal sealing device. Screws can use one same counting bowl, and plastic buckles can use one same counting bowl, as each product will count 50 pieces per bag, and customers want 6-8 bags/min, so 6 counting bowls can meet the capacity requirements.
Match with our LD-420 main packer:
1. Suitable for hardware in PE film packaging bags, automatic counting, filling, packing, and sealing.
2. The LD-420 machine model Max. bag size is in 300(L)*200(W)mm, can for your products size packing.
3. Advanced design concept, ensuring the stability of equipment operation, reducing the defect rate, and extending the service life of the equipment.
4. Use high-quality accessories to ensure the machine is stable and stable.
5. Adopt advanced PLC plus POD electrical system, friendly man-machine interface, and convenient operation.
6. According to the video the customer provided, the machine's speed is 5-6 packs per minute. If the new equipment is also made into 5-6 packs per minute, we recommend using a total of 6 counting vibration discs to improve the measurement accuracy of product counting. (The number of customers' current nails and plastic parts in each package ranges from 44-52.) If increase the accuracy, 3 counting vibration discs for nails, and counting vibration discs for plastic parts are better. (Accuracy will be 99%)
7. Independent control electric box for 6 sets of counting vibration discs, makes the whole process more intelligent and the control system more clear.
8. Chain Bucket Conveyor, for nails and plastic parts collection and feeding into packing machine.
9. Bag size is easy to change, just set the handle of the machine, no need to replace any accessories.
Landpack with a professional team of engineers and after-sales service, we are your best choice!
Here is the video of this product:
If you also have a similar project and want to upgrade to an auto-packaging solution. Please don't hesitate to contact us to get custom-made solutions accordingly.
Thank you for reading, please contact us if you have any inquiries.
LANDPACK supports OEM and ODM packing machines for end customers. Any further questions please contact to sales depart.
LANDPACK would be your reliable supplier of packing machines.

If you have any questions about the machine, feel free to contact us or leave your machine inquiry on our website, our sales managers and engineers will be here to support you and provide you with a suitable packing solution.
You could contact us by our website address or phone number, our sales managers will contact you in time and give you professional suggestions. And our engineers are willing to help you to solve the machine problem and teach you one step by step on video calling.