Published by: Rita-Landpack
Date: 2023-09-06
Customer product information:
Product: 16 types of hardware need automatic counting & mixing & packing in one bag. The following was the product list with sizes and counting quantity.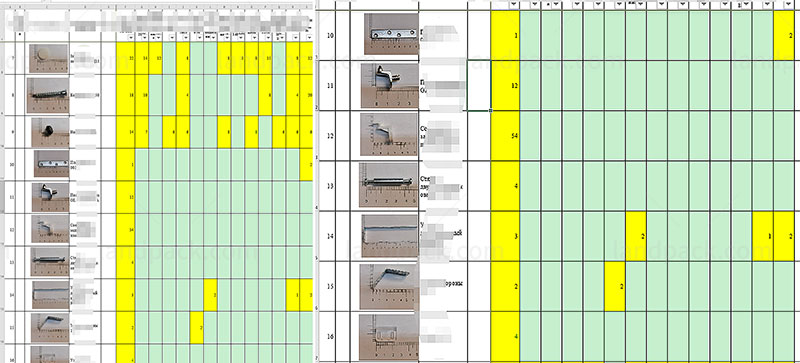 LANDPACK Solution:
Machine Detail :
1. The worker pours the fasteners on the counting machine.
2. The machine will use the roll film to form a bag.
3. The transport chain brings and fills the fasteners into the bag.
4. The Finished product convery brings the finished product from the bottom of the machine.
5. The whole set of machines has just one worker to operate.
6. The worker also counts the screw and fastener on the chain directly.
7. Weight selection to double-check the finished product weight after mixing.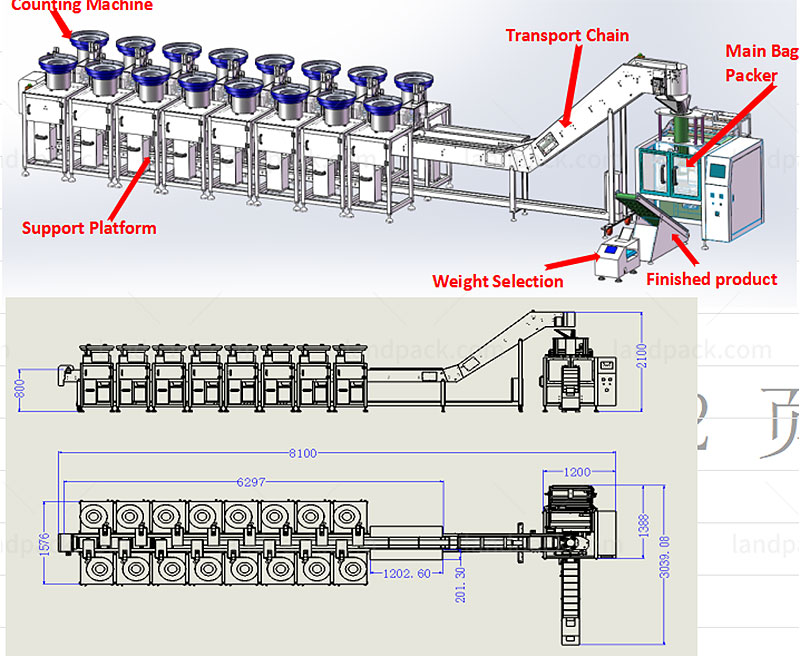 Customer's Questions&LANDPACK Answer:
Q: FCA or FOB basis (not EWX) because we need the export declaration from you after shipment
LANDPACK Answer: Both FCA and FOB are no problem for us.
Q: Appreciated payment conditions are 30% downpayment, 60% before delivery, and 10% after taken into operation (who provides the installation we will speak later, we have our own skilled staff but for sure they never touch your machines, and need training)
LANDPACK Answer: Really sorry that we cannot accept 10% after taking it into operation, that's a great risk for us. The best we could accept 30% down payment, 70% balance before delivery.
Q: What's the appreciated currency CNY or USD?
LANDPACK Answer: Both are no problem.
Q: Do your machines Russian interface? Which language documentation will be?
LANDPACK Answer: Our standard is English, if you need a Russian interface, we will provide it for you.
Q: Could you produce machines under CE safety rules?
LANDPACK Answer: Yes, that's for sure. All our machines have the CE certificate.
Q: Could you provide teleservice via the Internet, is it free or at extra cost?
LANDPACK Answer: We don't have this system yet, as we mentioned just now, we have the after-sale group to help you online, that's free for you.
Q: How fast do you could deliver the spare parts, especially under warranty?
LANDPACK Answer: Yes, we have the spare parts for machines.
Warranty: Except for the spare parts, the electrical components have with two-year warranty, and the mechanical components have with one-year warranty.
The customer confirmed the order and arranged a 50% deposit before production: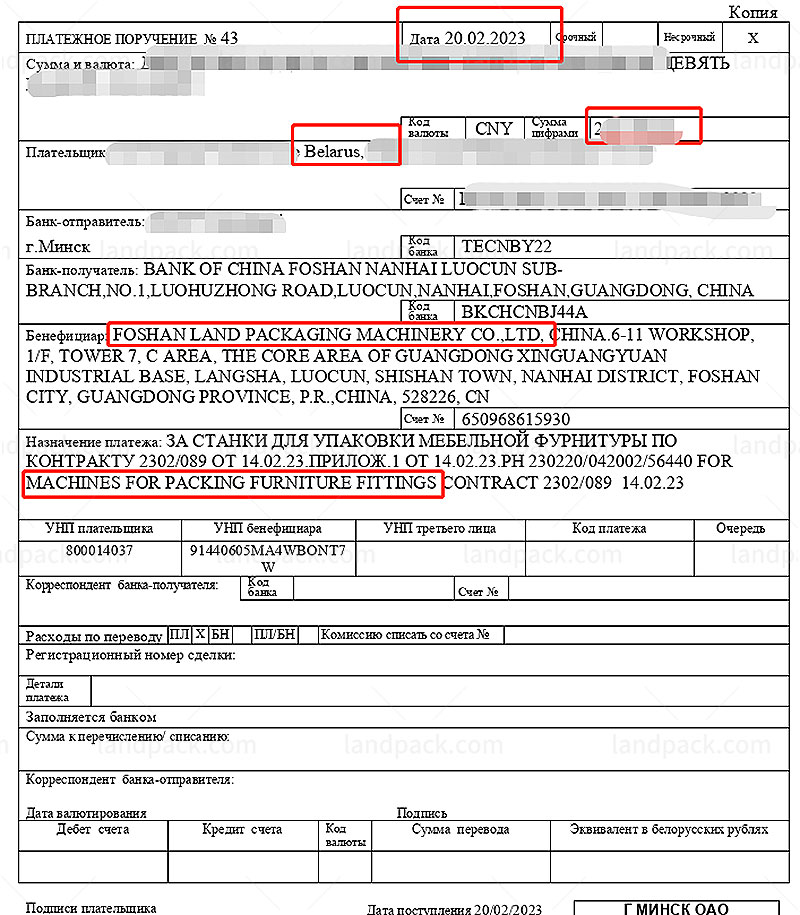 The following is the finished customized machine for the customer: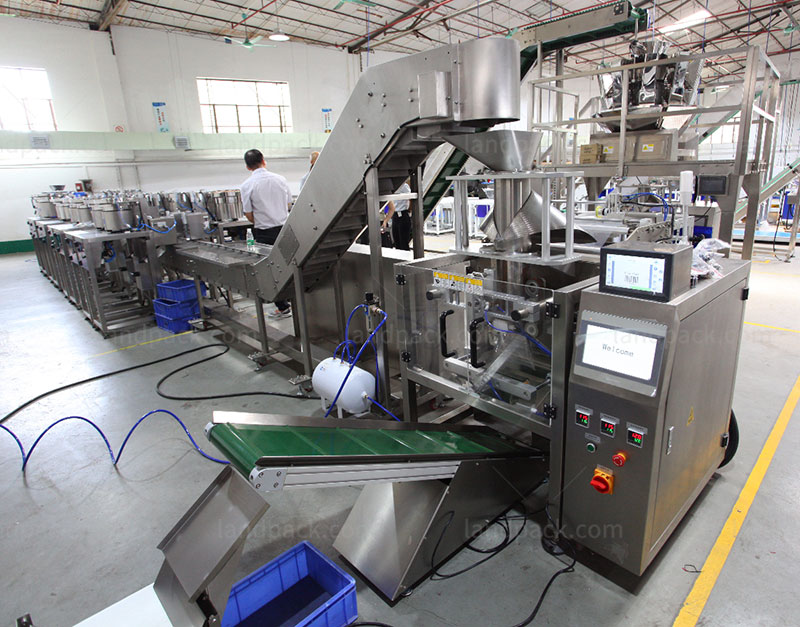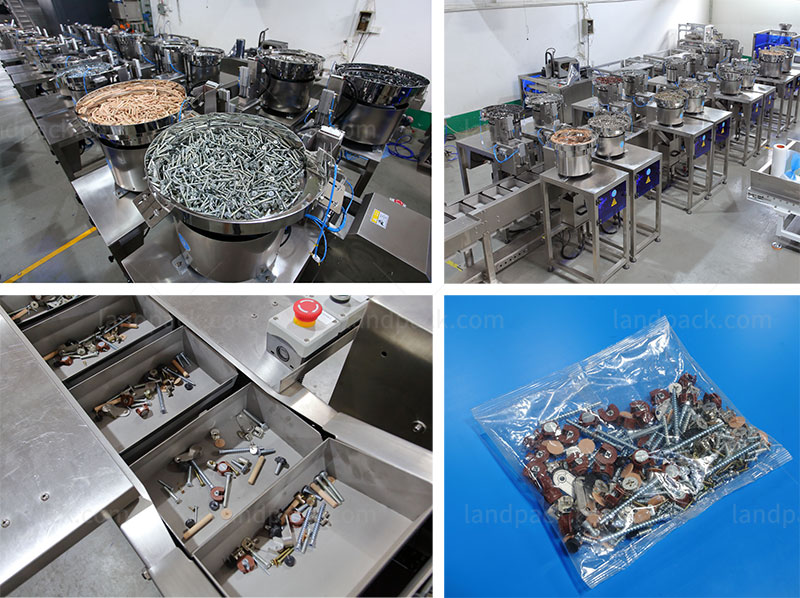 LANDPACK always will be here to offer the most professional packing solutions for you!!!
Here is the video of this product:
If you also have a similar project and want to upgrade to an auto-packaging solution. Please don't hesitate to contact us to get custom-made solutions accordingly.
Thank you for reading, please contact us if you have any inquiries.
LANDPACK supports OEM and ODM packing machines for end customers. Any further questions please contact to sales depart.
LANDPACK would be your reliable supplier of packing machines.

If you have any questions about the machine, feel free to contact us or leave your machine inquiry on our website, our sales managers and engineers will be here to support you and provide you with a suitable packing solution.
You could contact us by our website address or phone number, our sales managers will contact you in time and give you professional suggestions. And our engineers are willing to help you to solve the machine problem and teach you one step by step on video calling.